"Perpetual Pavement" is the name coined to describe a three-layer, flexible pavement design and construction concept. Application of the concept produces a deep-strength asphalt pavement that can resist structural fatigue distress for a long time (at least 50 years) and, thus, results in a long-lived pavement. These long-lasting structural bases can be economically maintained by replacing just the surface, never needing total removal and replacement.
Design of Perpetual Pavements can be accomplished through PerRoad 4.4 using mechanistic empirical design methodology. PerRoad has also been incorporated into PAVEXpress as a design module.
The Asphalt Pavement Alliance (APA) highlights Perpetual Pavements around the United States through Perpetual Pavement Awards. These roads exemplify the long-term value of asphalt pavements while meeting the desires of the traveling public—smooth roads with quick construction.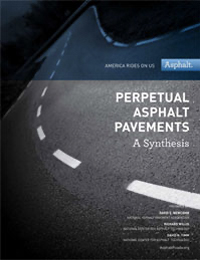 The Perpetual Pavement concept was first articulated in 2000 and the concept has rapidly gained acceptance.
The APA's newest technical document on the subject is Perpetual Asphalt Pavements: A Synthesis. This comprehensive publication captures the activities that have taken place over the last decade, synthesizes the information in a way that is useful to providing guidance for Perpetual Pavement design and construction, and provides a vision for further research and development to refine Perpetual Pavements.