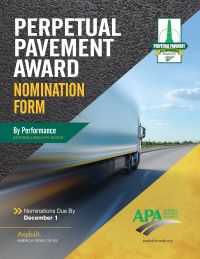 Nominations will be accepted from August 1 through December 1, 2022.
The first winner of a Perpetual Pavement Award was the New Jersey Turnpike, which was 50 years old at that time. Winners include interstate highways, rural roads, and airport runways.
These roads were all at least 35 years old when honored and had never experienced a structural failure. To qualify, a road could not have had more than 4 inches of new material added over the previous 35 years, and it could not have been resurfaced more frequently than once every 13 years. The winning pavements range in age from 35 years to 91 years.
You will be asked to create a NAPA account (or login if you already have a NAPA account) to proceed with the nomination process.