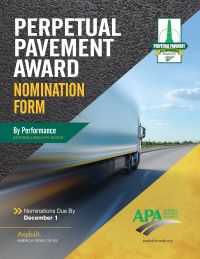 Nominations will be accepted from August 1 through December 1 of each year.
The first winner of a Perpetual Pavement Award was the New Jersey Turnpike, which was 50 years old at that time. Winners include interstate highways, rural roads, and airport runways.
Award Criteria
Pavement must be a minimum of 35 years old.
Pavement must have hot-mix or warm-mix asphalt binder and surface layers.
No rehabilitation or series of rehabilitations over the preceding 35 years have increased the total pavement thickness by more than four (4) inches. Thus, the overall structural gain during the 35 years of a pavement's life preceding the nomination cannot exceed four (4) inches.
Resurfacing intervals of no less than 13 years on the average.
Minimum project length is two (2) miles for all roadway types except municipal. For municipal roadways the minimum project length is four (4) continuous blocks or 1,200 feet.
In the case of "staged construction," the 35-plus year time frame against which the award criterion is evaluated begins when all staged construction is completed.
Municipal roadways must have acceptable crown and surface texture. A representative of the state asphalt pavement association or other industry representative and the contracting authority will be responsible for conducting a field evaluation to determine if the project meets an acceptable crown and surface texture prior to submitting the application.
You will be asked to create a NAPA account (or login if you already have a NAPA account) to proceed with the nomination process.