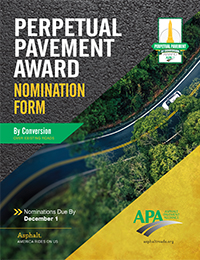 Nominations will be accepted from August 1 through December 1 of each year.
The Asphalt Pavement Alliance developed the prestigious Perpetual Pavement awards to recognize long-life asphalt pavements in the U.S. and honor asphalt pavements demonstrating outstanding design and construction.
Many owners are recognizing the benefits associated with converting existing roads to perpetual ones. The APA will accept nominations for roads that have been converted to meet Perpetual Pavement design criteria. The nominations will be reviewed and approved by the National Center for Asphalt Technology and qualified projects will receive the Perpetual Pavement by Conversion award.
Award Criteria
Pavement project must be completed.
Pavement must have hot-mix or warm-mix asphalt binder and surface layers.
Minimum project length is two (2) miles for all roadway types except municipal. For municipal roadways, the minimum project length is four (4) continuous blocks or 1,200 feet.
You will be asked to create a NAPA account (or login if you already have a NAPA account) to proceed with the nomination process.