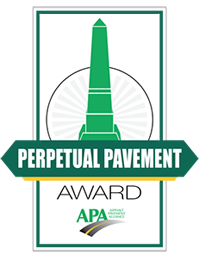 With 12 departments of transportation (DOTs) earning a 2020 Perpetual Pavement Award (PPA), tying last year's record of PPAs awarded in a single year, and the oldest roadway at 91–years old at the time of recognition earning a PPA , this year's winning projects epitomize the long-life asphalt pavements that reflect the characteristics of a Perpetual Pavement design: excellence in design, quality in construction, and value to taxpayers. To learn more about the 2020 PPA winners, please click here.
Click here and fast forward to the 1:32 minute mark to watch as the Ohio Department of Transportation proudly shares the news of their 2020 PPA win for a 91-years old roadway during the June 11 edition of their weekly video update, The Loop.
The Pennsylvania Department of Transportation shared details about Engineering District 9's 62-years old winning project on their website. To read what makes this pavement a winner, please click here.
Virginia Asphalt Association provides interesting details about Virginia Department of Transportations's 2020 PPA winning project in the news section on their website. To read about this 56-years old roadway in Roanoke County, please click here.