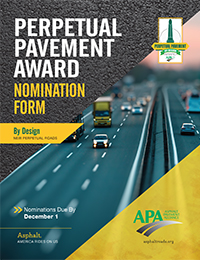 Nominations will be accepted from August 1 through December 1, 2022.
The Asphalt Pavement Alliance developed the prestigious Perpetual Pavement awards to recognize long-life asphalt pavements in the U.S. and honor asphalt pavements demonstrating outstanding design and construction.
State agencies and road owners have recognized the value of owning Perpetual Pavements. The APA will accept nominations for new roads that meet perpetual design. The nominations will be reviewed and approved by the National Center for Asphalt Technology and will receive the Perpetual Pavement by Design award.
You will be asked to create a NAPA account (or login if you already have a NAPA account) to proceed with the nomination process.