At the 65th Annual Quality Paving Awards Banquet, the Washington Asphalt Pavement Association (WAPA) and Washington State Department of Transportation (WSDOT) Secretary of Transportation Roger Millar presented WSDOT's Eastern Region with six asphalt pavement quality awards, including Washington state's third consecutive Perpetual Pavement Award, which celebrates long-life asphalt pavements that reflect the characteristics of a Perpetual Pavement design.
The Perpetual Pavement Award is presented by the Asphalt Pavement Alliance (APA) to state transportation departments and local agency road owners for well-performing asphalt pavements that are at least 35 years old with proven high-quality structural design. To earn the award, the pavement must have not suffered a structural failure, and it should have an average interval between resurfacings of no less than 13 years. The pavement must demonstrate the characteristics expected from a long-life, Perpetual Pavement design: excellence in design, quality in construction, and value for the taxpayers. Since the award was first presented in 2001, WSDOT has received five Perpetual Pavement Awards.
WSDOT received its latest Perpetual Pavement award for a 5.88-mile section of U.S. Highway 195 in Spokane and Whitman counties. This is WSDOT's 5th APA Perpetual Paving Award overall and is one of six pavement quality awards presented this year to WSDOT's Eastern Region. The Pavement Quality Awards are given annually via a pavement evaluation program run jointly by WAPA and the WSDOT Construction Division. The additional awards are as follows:
Carl Minor Award for Best Overall Paving Project.: SR 2 — Junction I-90 to Euclid Ave. (Inland Asphalt)
Certificate of Merit East: SR 902 — Medical Lake to I-90 (Shamrock Paving)
Certificate of Merit East: SR 291 Charles Road to Suncrest — Paving (Shamrock Paving)
1st Place Quality East: SR 2 — Junction I-90 to Euclid Ave. (Inland Asphalt)
Smoothness Award East: SR 902 — Medical Lake to I-90 (Shamrock Paving)
"We are honored to receive this national recognition of the outstanding pavement maintenance and preservation work done in WSDOT's eastern region," said Mike Gribner WSDOT region administrator. "The durability and longevity of these highways is a testament to WSDOT's practical solutions approach to asset management which employs best practices during the entire life cycle of a pavement."
Engineers at the National Center for Asphalt Technology (NCAT) at Auburn University, evaluated the nominations and validated the results for the 2018 Perpetual Pavement Award winners.
Winning agencies are honored by their local state asphalt pavement association and are presented with an engraved crystal obelisk. The names of the winning agencies and projects are added to a plaque on permanent display at the NCAT Research Center in Auburn, Alabama. Since the Perpetual Pavement Award was first presented in 2001, 135 pavements in 31 U.S. states and one Canadian province have been honored with the award.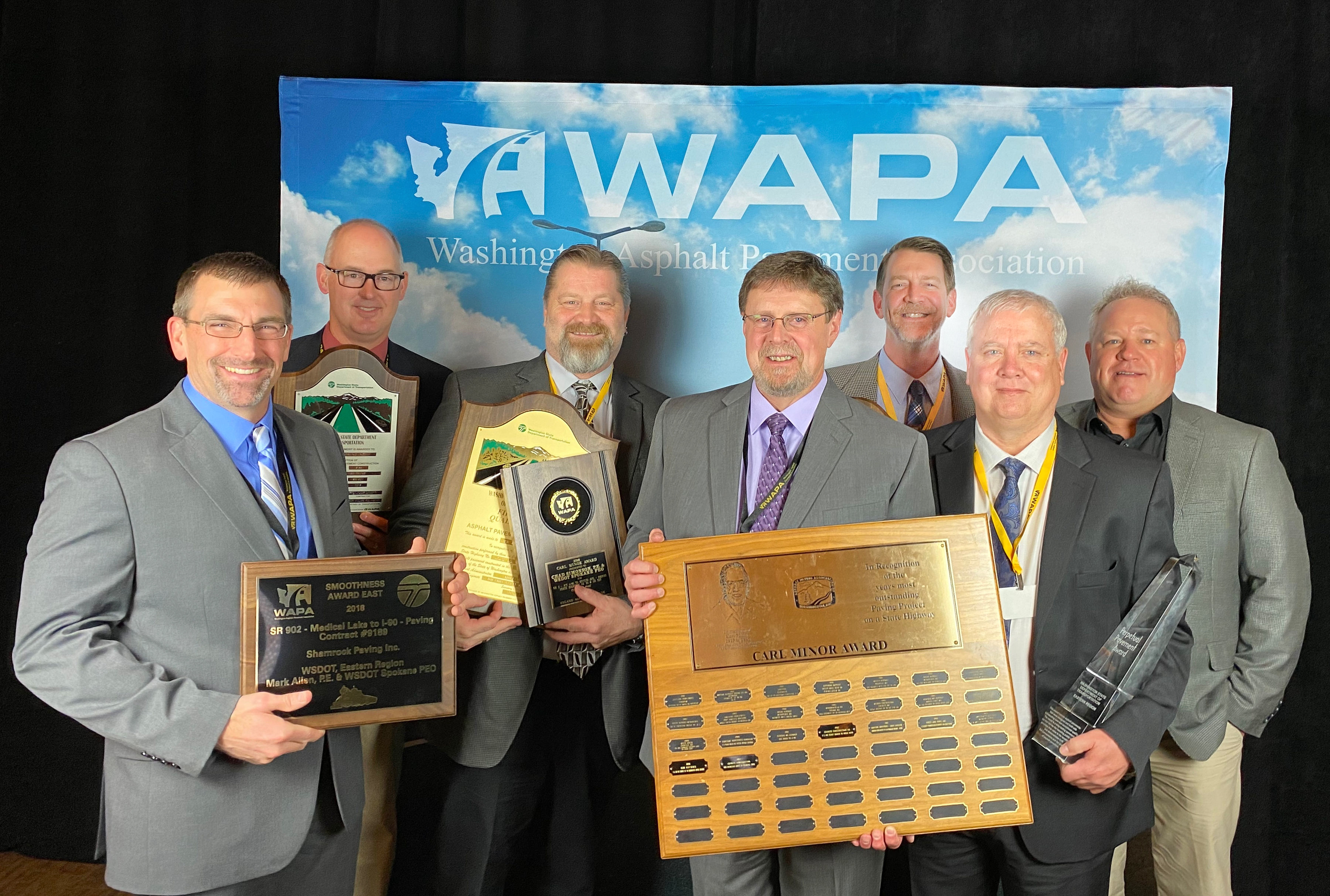 Left to Right:
Mark Allen, WSDOT Eastern Region Project Engineer
Robert Blegen, WSDOT Eastern Region ARA Construction
Chad Simonson, WSDOT Eastern Region Project Engineer
Mike Gribner, WSDOT Eastern Regional Administrator
Tom Brasch, WSDOT Eastern Region Project Engineer
Kevin Littleton, WSDOT Eastern Region Materials Engineer
Chad Swenson, WSDOT Eastern Region Pavement Design Engineer