Cincinnati – The Asphalt Pavement Alliance (APA) today announced a new publication, Perpetual Asphalt Pavements: A Synthesis.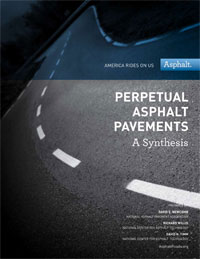 The announcement was made at a special press conference during the World of Asphalt 2010 Show and Conference.
The APA's Engineering Team developed the 45-page technical document. The Perpetual Pavement concept was first articulated in 2000 and the concept has rapidly gained acceptance. NAPA's Dave Newcomb, the principal author of the new synthesis document, said that it "captures the activities that have taken place over the last 10 years, synthesizes the information in way that is useful to providing guidance for Perpetual Pavement design and construction, and provides a vision for further research and development to refine Perpetual Pavements."
The Asphalt Pavement Alliance is a coalition of the Asphalt Institute, the National Asphalt Pavement Association, and the State Asphalt Pavement Associations. The Asphalt Pavement Alliance's mission is to further the use and quality of asphalt pavements. The Alliance will accomplish this through research, technology transfer, engineering, education, and innovation.